South Green Trainings in 2019

The South Green Platform with their partners organizes a new series of practical courses in bioinformatics-related topics ranging from basic skills such as introduction to Linux or HPC usage to advanced data analysis such as Next-Generation Sequencing Data Analysis or python programming
These training courses aim at enabling life scientists to effectively handle and analyze biological data on our two HPC clusters.
They are opened to the scientists from South Green units and our partners.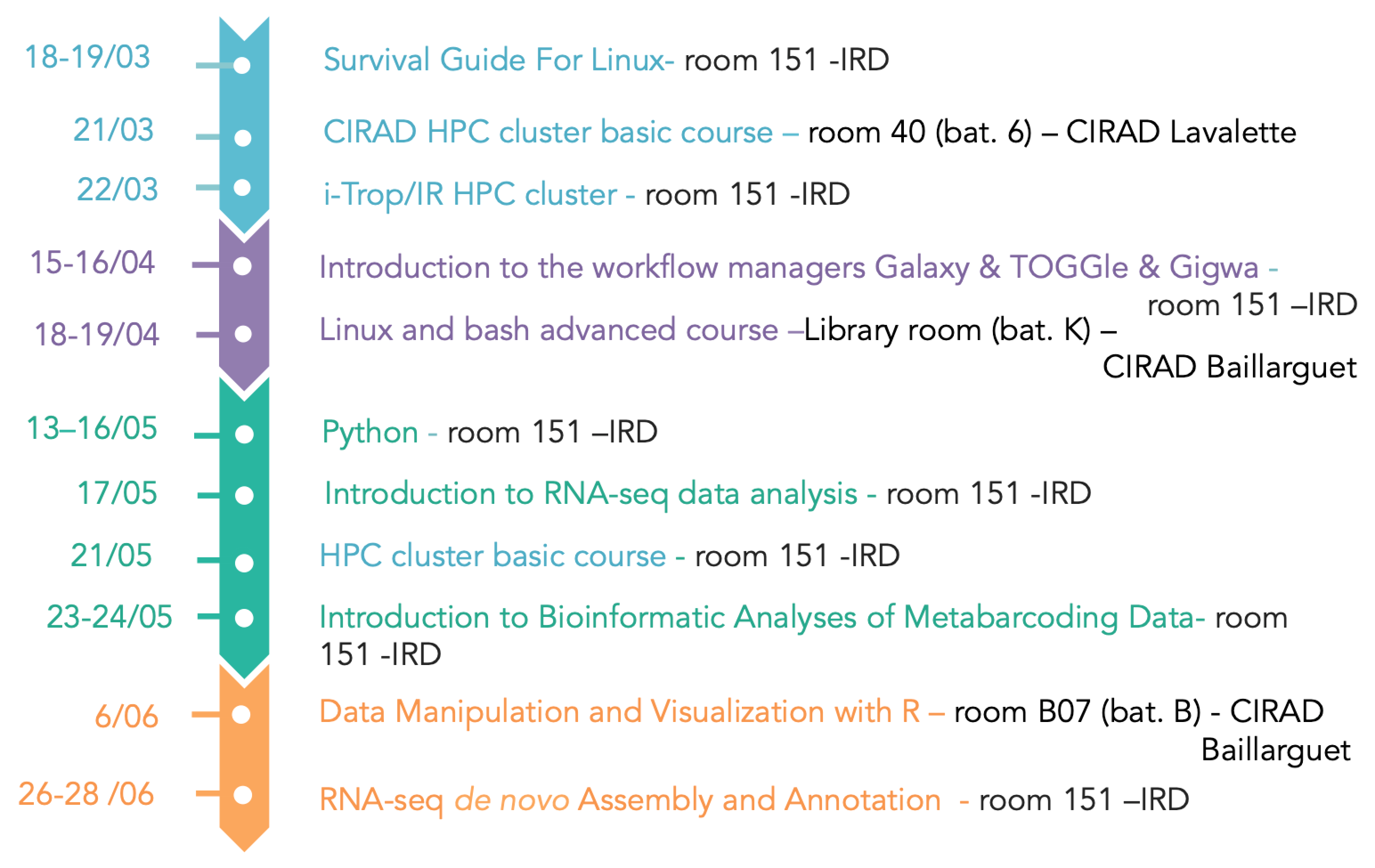 Every training session will be opened only to 20 trainees.
Complete program (in french)
Instructors
i-Trop (IRD)
Aurore Comte - UMR IPME, i-Trop
Sébastien Cunnac - UMR IPME
Valentin Klein - UMR DIADE, i-Trop
Valérie Noël - UMR MIVEGEC, i-Trop
Julie Orjuela-Bouniol - UMR BOREA, i-Trop
François Sabot - UMR DIADE
Marie Simonin - UMR IPME
Ndomassi Tando - UMR DIADE, i-Trop
Christine Tranchant-Dubreuil - UMR DIADE, i-Trop
UMR AGAP
Bertrand Pitollat
Gaëtan Droc
Gautier Sarah
Stephanie Sidibe-Bocs
Marilyne Summo
UMR BGPI
Sébastien Ravel Frédéric Mahé
UMR Intertryp
UMR QualiSud
Astre
Etienne Loire
Julie Reveillaud
ABIMS
Bioversity
Catherine Breton
Alberto Cenci